What is a Foam party?
Foam Party rentals are a cool and creative way to have a unique and memorable event people will talk about and kids will enjoy for a lifetime. Our foam parties rent to kids birthday parties as young as 4 years of age to college fraternity and sorority parties to local clubs. Imagine running or dancing around in a pit full of foam to your ankles or your head. We can make that happen. With our turnkey rental package, all you have to do is call us, we deliver and set-up. Just show us your set up location, where your electricity and water is and we do the rest. Our foam machines can fill up a 20ft diameter pit in 4 minutes flat. Give us a call to discuss your next foam party today.
About our foam machines.
The foam is not a soapy substance. Therefore, it will not harm eyes, skin, clothing, or the grass. There is no clean-up afterwards. It is water-based so people playing in it will get wet.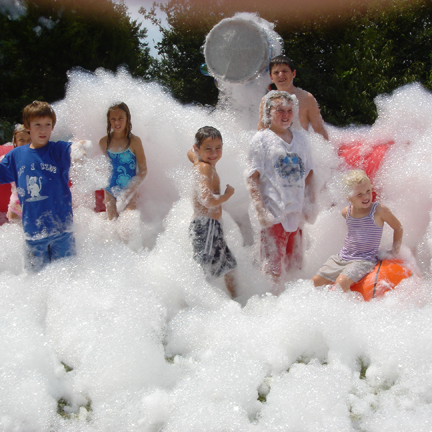 Is it Safe?
Foam machines are safe. You might think foam is made from soap and water, so you are going to get cold, wet, and sticky. Although your clothes will get damp, you will not feel cold when you are at one of our foam parties. The solution used in our foam machines is 100% organic, toxic free & 90 percent air…..the rest is just water and solution. It has been used in over 50 states and city parks and has never damaged the environment, nor has it caused any allergic reactions to any person. Our foam solution is odor free, and has been chemically tested to be hypoallergenic.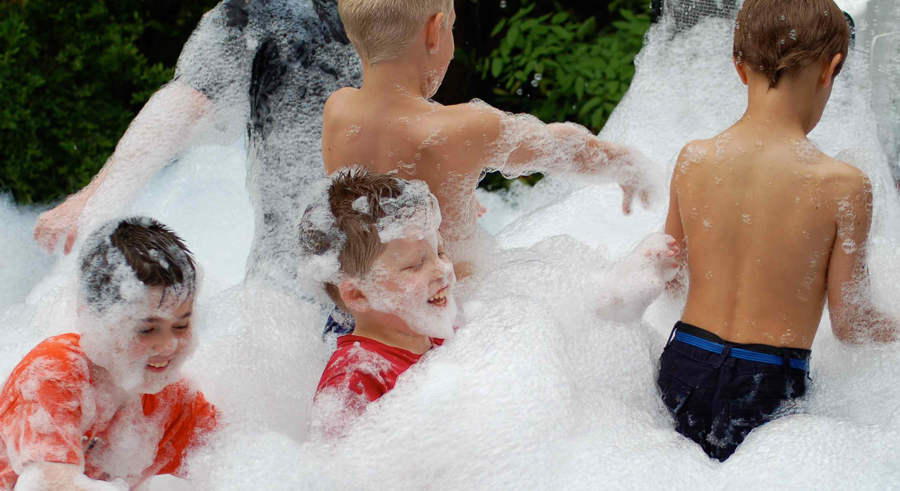 Foam Party Rentals Pricing
All foam party rentals include: Super Powered Foam Machine with Stand and 90 minutes of Foam Solution
| Game Play | Rental Fee | Game Play Attendant |
| --- | --- | --- |
| 1 1/2 Hours | $170 | + $50 – Must be scheduled in advance |
| Additions | Rental Fee |
| --- | --- |
| Foam Pit (15′ x 15′) | $30 |
| Additional Game Play | $50 for 30 additional minutes |
Foam Party & Water Tag Combo
Combo rentals include: 90 minutes of foam solution and equipment for up to 14 water tag players.
| Game Play | Rental Fee | Game Play Attendant |
| --- | --- | --- |
| 2 Hours | $255 | + $50 – Must be scheduled in advance |